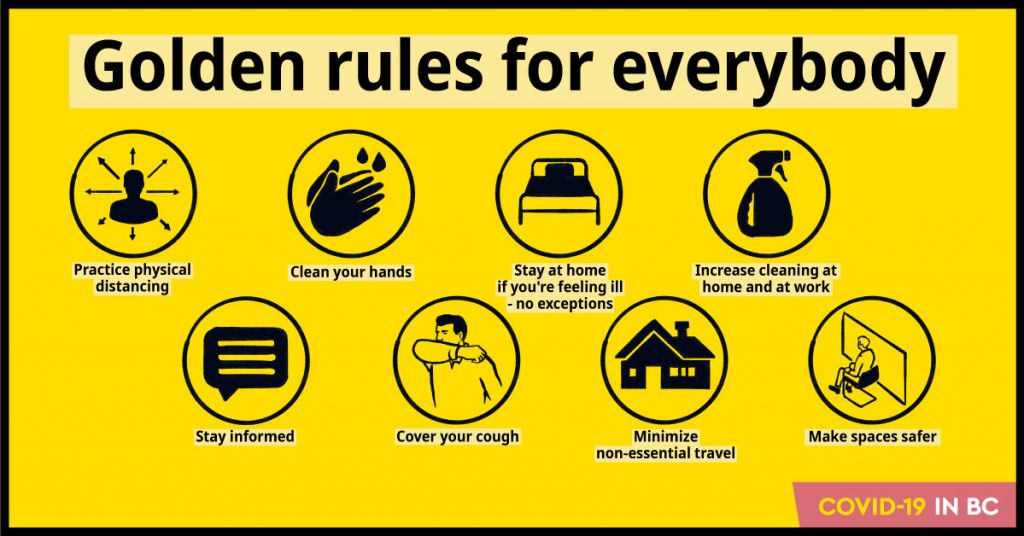 It continues to be extremely important that everyone works to prevent the spread of this disease. Even if you do not personally feel like you are at risk of getting sick, we must each do our part to protect other, more vulnerable community members. Slowing transmission helps our health care system keep up with the disease.
❓ Where do I go if I have questions?

If you need help or would like to give help to others:
If you are looking for medical information about COVID-19:
If you are looking for non-medical information about COVID-19:
Call: 1-888-COVID-19* ☎️
Text: 604-630-0300 📱
Online: BC CDC 🌐
*Translation available in over 100 languages
---
Official Information Sources
This is a regularly evolving situation, with changes on a day-by-day and even hour-by-hour basis. Thus, please take note of the following links so that you can stay up to date:
Official BC Government News Releases: BC Government News Releases
Daily update briefings with Minister of Health Adrian Dix and Provincial Health Officer Dr. Bonnie Henry are live streamed on the BC Government Facebook Page. These are available in ASL.
Official Twitter Accounts can often be the fastest way to get the latest information:
Official Health Information on COVID-19
Be cautious of information you read about the virus online. Stick with reputable sites such as:
Travel Advisories & Border Control
Travel advisories and border control directives are issued by the Government of Canada. Visit Travel Advisories to see the latest advice on travel.
Emergency and Urgent Care Facility Wait Times
Medical facilities may be under increased burden during these times. Visit ED Wait Times to see the wait times for emergency and urgent facilities in Vancouver, Richmond, and North Shore.