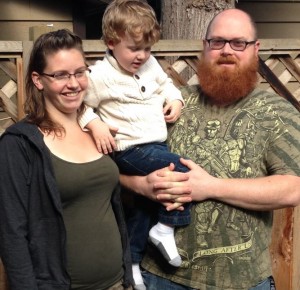 VICTORIA – Expectant parents on provincial disability payments lose every penny of their maternity leave benefits to another heartless Liberal clawback.
"Christy Clark continues to victimize the most vulnerable families in our province," said John Horgan, leader of B.C.'s New Democrats. "She was shamed into ending the clawback of child support payments, and she ought to be just as ashamed of her clawback of maternity leave benefits."
Luke Dickinson and his wife Katie are raising two sons in a modest Maple Ridge apartment. Luke receives $1,490 each month in disability payments, and Katie earns $1,000 each month in wages, which she can keep as an earning exemption.
Luke and Katie were thrilled to learn that Katie is pregnant with their third child, but shocked to discover that every dollar she gets in maternity leave benefits will be clawed back by the Liberal government.
Luke and Katie pay $1,325 in rent. Thanks to this clawback, they will be left with only $165 per month to buy food and clothing, pay their hydro bill and all the other monthly costs for their family.
"Christy Clark is pushing this family into poverty," said Michelle Mungall, New Democrat spokesperson for social development. "Those children have a right to grow up in dignity, and to go to school with full stomachs. Every parent knows that, so why don't the Liberals?
"New Democrats asked the premier to make this right for the Dickinsons and for families in similar circumstances across B.C., but all the premier did was repeat her tired political attack lines. Sadly, the minister of social development was much worse: she just refused to end this senseless clawback," said Mungall.
— 30 –
View the exchange in the legislature here: https://www.youtube.com/watch?v=QO5cBg4LwRI